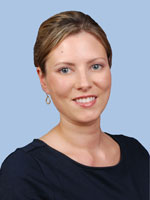 Caroline D. Miller, Psy.D. is the Director of Assessment and Training at The Center for LifeSpan Development, Inc. (CLD). Her clinical interests include learning style differences, child and adolescent psychopathology, family therapy and cognitive behavioral therapy. She is a licensed psychologist and health service provider in the Commonwealth of Massachusetts.
In addition to her work at CLD, Dr. Miller is a member of the faculty at The Massachusetts School of Professional Psychology (MSPP), where she teaches graduate courses in psychological assessment and abnormal psychology. She supervises graduate students and interns at The Brenner Center for Psychological Assessment and Consultation (The Brenner Center), a not-for-profit MSPP agency and internship site that brings state of the art assessment and testing services to disadvantaged, underserved populations in Massachusetts and throughout the continental United States. She also conducts workshops on psychological assessment measures for local school districts.
Dr. Miller earned a Bachelor of Science in Psychology from Trinity College, a Masters in Counseling Psychology from Boston College, and a Doctorate in Clinical Psychology from MSPP. She received her clinical training at the Brighton-Allston Mental Health Association and The Brenner Center. She then completed post-doctoral fellowships in neuropsychological assessment at The Brenner Center and CLD. Dr. Miller's research has focused on learning and memory as well as cross-cultural personality assessment. Dr. Miller is a member of the Massachusetts Psychological Association.
Research-Based Testing
Psychological tests are one of the sources of data used within the process of psychological assessment. Psychological testing provides 'samples of behavior", often responses to specific test questions or measures of observable behavior, in order to infer generalizations about a given individual. The technical term for the science behind psychological testing is psychometrics. A useful psychological test must be both reliable (i.e., produce internally consistent and stable results over time), and valid (i.e., there is evidence to support the specified interpretation of the test results). All research-based tests possess these qualities. Further, psychological measures that are grounded in research can be interpreted in a norm-referenced manner, allowing for an understanding of how an individual's scores compare with a referenced group (e.g., how one's scores compare to others of the same age, gender, culture, or social class).