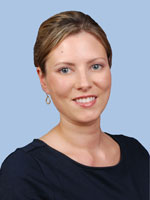 Caroline D. Miller, Psy.D. is the Director of Assessment and Training at The Center for LifeSpan Development, Inc. (CLD). Her clinical interests include learning style differences, child and adolescent psychopathology, family therapy and cognitive behavioral therapy. She is a licensed psychologist and health service provider in the Commonwealth of Massachusetts.
In addition to her work at CLD, Dr. Miller is a member of the faculty at The Massachusetts School of Professional Psychology (MSPP), where she teaches graduate courses in psychological assessment and abnormal psychology. She supervises graduate students and interns at The Brenner Center for Psychological Assessment and Consultation (The Brenner Center), a not-for-profit MSPP agency and internship site that brings state of the art assessment and testing services to disadvantaged, underserved populations in Massachusetts and throughout the continental United States. She also conducts workshops on psychological assessment measures for local school districts.
Dr. Miller earned a Bachelor of Science in Psychology from Trinity College, a Masters in Counseling Psychology from Boston College, and a Doctorate in Clinical Psychology from MSPP. She received her clinical training at the Brighton-Allston Mental Health Association and The Brenner Center. She then completed post-doctoral fellowships in neuropsychological assessment at The Brenner Center and CLD. Dr. Miller's research has focused on learning and memory as well as cross-cultural personality assessment. Dr. Miller is a member of the Massachusetts Psychological Association.
Consultation
Psychological consultation is an art that requires relationship development. It focuses upon the needs of individuals, groups, programs or organizations. It is a planned interaction between the psychologist and one or more clients or colleagues. Most often at The Center for Lifespan Development, consultations evolve from the advocacy work done on behalf of our testing clients. As professional psychologists, we collaborate with other professionals (e.g., teachers, physicians, testing boards, school administrators, etc.) in a respectful manner as we strive to facilitate understanding and implement change. The goal of this work is to build effective bridges from the testing data to the day to day worlds of our clients in order to establish the recommendations from our assessments within other settings or relationships.