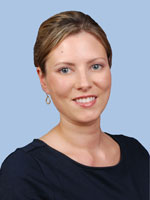 Caroline D. Miller, Psy.D. past Director of Assessment and Training at The Center for LifeSpan Development, Inc. (CLD), is currently serving as the Center's Psychological Testing and Clinical Services Consultant. Her clinical areas of expertise include psychological assessment, learning style differences, child and adolescent psychopathology, family therapy and cognitive behavioral therapy. Dr. Miller is a licensed psychologist and health service provider in the Commonwealth of Massachusetts.
In addition to her work at CLD, Dr. Miller has been a member of the William James College (WJC) faculty, formerly known as the Massachusetts School of Professional Psychology (MSPP), where she has taught graduate courses in psychological assessment and abnormal psychology. She has supervised graduate students and interns at the Brenner Assessment and Consultation Center, a not-for-profit WJC agency and internship site that has provided state of the art assessment and testing services to disadvantaged, underserved populations across Massachusetts, New England, and the continental United States. Dr. Miller also conducts workshops on psychological assessment measures for local school districts.
Dr. Miller earned a Bachelor of Science in Psychology from Trinity College, a master's in counseling psychology from Boston College, and a Doctorate in Clinical Psychology from MSPP. She received her clinical training at the Brighton-Allston Mental Health Association and the Brenner Center. She then completed post-doctoral fellowships in neuropsychological assessment at the Brenner Center and CLD. Dr. Miller's research has focused upon learning and memory as well as cross-cultural personality assessment. Dr. Miller is a member of the Massachusetts Psychological Association.
Neuropsychological
This term refers to testing that evaluates different brain functions including language processing, visual processing, attention, organization, and memory.