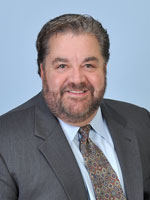 Samuel J. Moncata, Psy.D. has been teaching psychology and providing clinical services for more than 25 years. In 1992, Dr. Moncata created The Center for LifeSpan Development, Inc. (CLD), a regional leader in the assessment and treatment of learning and behavioral issues across the life span. He continues to direct CLD.
Dr. Moncata obtained Master's and Doctor of Psychology degrees in clinical psychology from the University of Hartford. He received his pre- and post-doctoral training at McLean Hospital in Belmont, Massachusetts, where he later worked as a Staff Psychologist, then as an Attending Psychologist. Dr. Moncata has held teaching positions at the University of Hartford and Harvard Medical School.
Since 1994, Dr. Moncata has taught at The Massachusetts School of Professional Psychology (MSPP). He is currently a core faculty member in the Doctor of Clinical Psychology (Psy.D.) program at MSPP, teaching introductory and advanced assessment courses, as well as child and adolescent psychopathology. His research interests include cross-cultural personality assessment, learning style issues, adolescent depression, trauma, cognition within personality development, predicting dangerousness, educating troubled youth, pervasive developmental disorders and Asperger's Syndrome.
Dr. Moncata is also the Clinical Director of the Brenner Center, a not-for-profit MSPP agency and internship site that brings state-of-the-art assessment and testing services to disadvantaged, underserved populations across Massachusetts and the continental United States.
Dr. Moncata is a licensed psychologist and health service provider in the Commonwealth of Massachusetts. He is also a member of both the Massachusetts and American Psychological Associations. Dr. Moncata conducts numerous workshops and presents on a variety of topics to both professional and nonprofessional audiences alike. His work has been published in both professional and lay journals.
Team-Testing Approach
When doing psychological assessments at CLD, we utilize a team-testing approach. The Team-Testing approach involves multiple examiners who work in tandem throughout the course of an evaluation. With this model, the client comes to our Center on multiple days across several weeks. Testing is conducted within smaller time units (1 ½ to 3 hour blocks), the length dependent upon several factors, including age and learning style. We never do all testing across one day or with just one psychologist. Longer testing sessions often measure fatigue and boredom rather than a client's true potential. Further, if the client or the clinician is not at top form during a session, having multiple testing days or having another examiner present better controls for these contingencies. Multiple samples of behavior across time, with multiple examiners significantly reduce any margin of error and makes for a more powerful assessment.